TCE (Total Customer Experience) is increasingly recognized as a key driver of growth and profitability for corporations. Recent research highlights that TCE-oriented executives achieve higher than average results.
For both executives and BEC (Business English Communication) TTCs, the key principle is the same: the client always comes first. Therefore, it is of paramount importance for BEC TTCs to continuously check their client needs and adapt content and role to respond.
A very recent LinkedIn research on training needs shows that 68% of people who responded prefer to learn at work and 49% at point of need, and finally, time is a major problem in meeting training needs.
Additionally, managers who responded stated that their priorities are: soft skills in leadership, communication, collaboration and role-specific areas.
The challenge for BEC TTCs is to be able to provide the best client experience by putting themselves in the client's shoes to build a positive TCE journey. As clients grow professionally, TTCs can help them evolve and navigate multidisciplinary knowledge focussing on the TCE journey – not the individual parts of it.
The implication for BEC TTCs is upskilling, to broaden their knowledge and become able to connect knowledge in order to act as true value creators for clients, making their lives easier and therefore being more successful. What becomes extremely valuable is to build a network of reliable professionals that will help us fill the gap if we do not hold all the competences required on a certain project.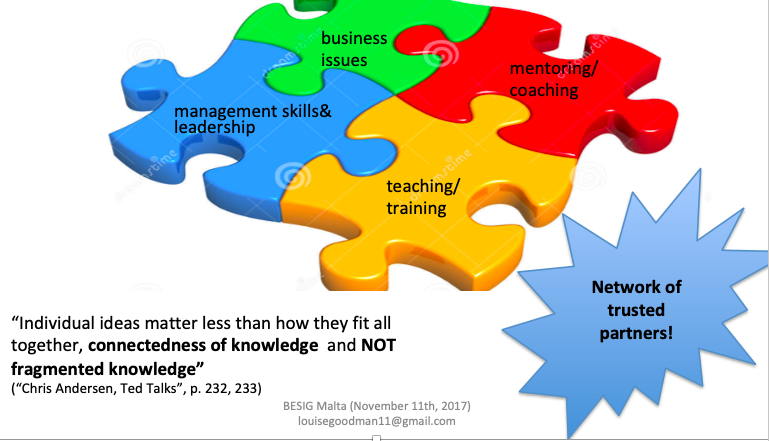 We (TTCs) need to have knowledge of key business issues – and be ready to deepen our knowledge of specific industry issues, as required –by researching literature on those issues and understanding the underlying principles. We need to research the field of leadership and management skills and abilities in order build an understanding of the key principles and how to use them with clients in coaching/mentoring situations.
Personal experience tells us that the more clients grow, the more – as a BEC TTC – a broad and deep knowledge, competence, and experience base is supportive to building a trust-based relationship.
For BEC TTCs some new challenges are emerging that reinforce the need for curiosity, connectedness of knowledge and flexibility in learning and teaching approaches.
Some of the main ones to reflect on are the following:
BELF (Business English as a Lingua Franca) is now accepted, but cultural differences … "What I said is not what I meant" (see article by Rudi Camerer)!
Native vs non-native speakers is now the past. What kind of English are professionals speaking in your business?
AI, VR, and more technology to come. How to best use them to help us progress fast?